~ Michelle Sell's Harp Music Albums, CD's & mp3's ~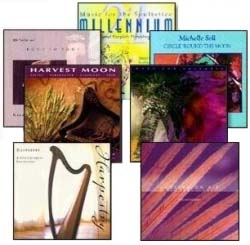 Harp Music, CD's & mp3's
A renowned professional musician, Michelle performs harp music in concert and theater; private and public events; and records albums. She is available for jazz, classical, pop, and new age events; studio recording; and music composing in the San Francisco Bay Area. These are her solo (harp music) and ensemble (harp music with strings and brass) CD's and sample mp3's.
"...just a big THANK you for your music. 'Secret Harbour' has been with me for such a long time and I do not know how to express the many colours of feelings I have when listening to it. Especially, 'Within Every Moment' is just incredible.
Ulrich B, Germany

~ iTunes ~
~ Amazon ~
~ cdbaby ~
~ Omni Music ~
~ Rhapsody ~



amazon.com
Hear Michelle's harp with Frank Sinatra on "Sinatra: Vegas" (Disc 3 - Recorded Live at Caesars Palace, Las Vegas, NV, March 1982)


amazon.com
Hear Michelle's harp with Tony Bennett and k.d. lang on "Wonderful World: Live in San Francisco" (Fairmont Hotel, 2002)"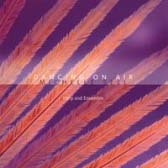 Michelle Sell & Ensemble
Moon Circle Records
Michelle's brilliant and extraordinary talent as one of the world's favorite harpists shines throughout this CD. New age orchestrations, upbeat rhythmic pop, acoustic jazz, and soloistic classical selections take the listener on an amazing auditory journey. A recording resplendent in brilliant "harpistry" and evocative ensemble songs, "Dancing on Air" will make you do just that!
"Michelle Sell takes her technical mastery and boldly treads where few harpists dare. Sell's musicality, however, makes this not only a beautiful album but also one that has the depth and interest to command attention. As a composer she winds us through different harmonic landscapes (something extremely unique in the realm of harp music) and revels in that richness. There's beauty in the production and the arrangements, but the hallmark of "Dancing on Air" is that Sell has created music that yearns to be heard and leaves us grateful we did." Erika L, Albany, CA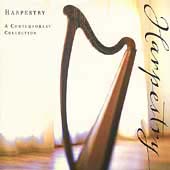 Michelle Sell & Various Artists
Polygram/Universal/Imaginary Road Records
The harp isn't just for angels, orchestral glissandos and Harpo Marx anymore. That's the message of this collection, which draws together harpists working within many traditions and countries, from Ireland to Venezuela. Largely composed of new, commissioned works by many of the world's top harpists, "Harpestry" features Michelle Sell, Derek Bell (Chieftains' harpist), and Andreas Vollenweider to name a few. Michelle's composition, "Sides of One," is a rhythmic, melodic, latin influenced song depicting the many sides of each one of us.
"I'm writing after having heard your harp music on a CD called 'Harpestry.' I thought your composition was the most beautiful and touching of all the selections. How lucky was I to have discovered such a gifted harpist!" Elyse R, New York, New York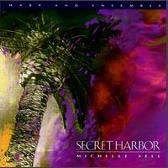 Michelle Sell & Ensemble
Sugo Music
The songs on "Secret Harbor" are filled with both stimulating musicianship and melodic mystery as Michelle's writing style permeates your senses like a cool breeze. Her delicate harp music arrangements have a way of weaving in and out of your consciousness, deceptive in their subtlety and always beautiful. These uplifting melodies are portrayed on harp and feature authentic percussion, fretless bass, chapman stick, saxophone, cello, lush keyboards, and more.
"The attorney that I work for has worn out the tape of 'Secret Harbor' that is in our office. Your music has a very soothing effect on our clients!" Laura M, Spanaway, Washington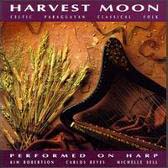 Michelle Sell/Kim Robertson/Carlos Reyes
Sugo Music
"Harvest Moon" is an original collection of evocative harp selections including classical, contemporary, Irish, Celtic, and Paraguayan styles. It features the talents of three exceptional artists: Michelle Sell, Kim Robertson, and Carlos Reyes.
"Your music on 'Harvest Moon' is deep and profound - absolutely beautiful." Kathryn J. Z, M.D., Topeka, Kansas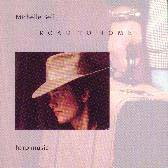 Michelle Sell & Ensemble
Moon Circle Records
"Road to Home" is a diverse collection of Michelle's original compositions, both ensemble and solo. Dedicated to the memory of her parents and in honor of her three irrepressible siblings, this recording musically chronicles our own internal journey "home." One of the solo harp selections entitled "Hand In Hand" is an intensely emotional composition and is in honor of the last time Michelle and her mother touched hands. A more popular, contemporary flavor permeates most of the remaining songs whether they sound straight from the Caribbean as in "No Problem" (dedicated to her father), or "Can't Stop the Wind" with its strong melodic line and replete with chapman stick and drums.
"First let me thank you for 'Road To Home.' I marvel at your talent and creativity. You are fantastic! My harp teacher thought so too after hearing your CD." Mary K, Honolulu, Hawaii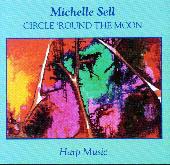 Michelle Sell & Ensemble
Moon Circle Records
Rooted in the gracefulness of the classical tradition, this recording offers rich melodies and a wide variety of rhythmic colorings. Five tracks are collaborations with master cellist, David Darling. "Circle 'Round the Moon" features tasteful and elegant ensemble playing with crossover appeal.
"I have really been enjoying your CD, Circle 'Round The Moon.' Being a historical musicologist and a harpist, your music is a welcome relief from some of the rigors of the day." Dr. Shelley B. Archambo, Professor of Music, Midwestern State University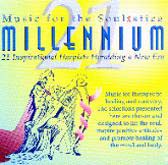 Michelle Sell & Various Artists
GMG Studios
Twenty-one musicians play harp music for therapeutic healing and recovery. The selections presented here are chosen and designed to lift the soul, inspire positive attitudes and promote healing of the mind and body. Partial proceeds from the sales of this recording will benefit the SUSAN G. KOMEN BREAST CANCER FOUNDATION. Michelle's song, "Pieces of Glass" is a harp solo on her Camac electro-acoustic harp. The title reflects the fragility of our lives and how quickly we all can break, if we don't love each other.


Home

About Michelle Sell

Appears On/Other Artists/Current Projects


Weddings & Events

Harp Teaching & Lessons


Contact

Harp Music CD's & mp3's

Press, Reviews, & Comments

Harp Music Therapy

Harp Music Links 1,
2,
3,
4


Harp Column Interview with Harp Musician Michelle Sell


Event & Wedding Venue Photos


Wedding Music Samples & Repertoire


Site Map


~ 2019-09-08 ~
~ ©2018, Michelle Sell, Moon Circle Records ~

~ Michelle Sell's Harp Music Albums, CD's & mp3's ~