"Harpestry: A Contemporary Collection"
Michelle Sell & Various Artists
Polygram/Universal/Imaginary Road Records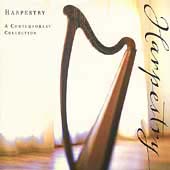 "I'm writing after having heard music of yours on a CD called 'Harpestry.' I thought your composition was the most
beautiful and touching of all the selections. How lucky was I to have discovered such a gifted harpist!" Elyse Rieder, New York, New York

"My name is Brandee A. Younger and I play the harp. I fell in love with Harpestry the day I bought it.
My favorite song on it is 'Sides of One' by Michelle Sell!" Brandee Younger, Uniondale, New York (in a letter sent to Imaginary Road Records)




The harp isn't just for angels, orchestral glissandos and Harpo Marx anymore. That's the message of this collection, which draws together harpists working within many traditions and countries, from Ireland to Venezuela. Largely composed of new, commissioned works by many of the world's top harpists, "Harpestry" features Michelle Sell, Derek Bell (Chieftains' harpist), and Andreas Vollenweider to name a few. Michelle's composition, "Sides of One," is a rhythmic, melodic, latin influenced song depicting the many sides of each one of us.
Jardin Des Roses - Hornpipe In E Minor - Planxty Cruit - The Nightingale

Sides Of One - Love's Comfort - Toccata from 'Sarabanda e Toccata' - Caballo Viejo - Year's End

Ancient Memories - Marin Wynne's - Leap! - Wanja The Wanderer
~ Click on Highlighted Link for mp3 Sample ~
"Sides of One" produced by Michelle Sell and Dawn Atkinson
Michelle Sell: harp
Don Schiff: chapman stick
Jacqueline Rago: percussion
Jim Moran: flute
Listen/Purchase/Reviews
amazon.com


Home

About Michelle Sell

Appears On/Other Artists/Current Projects


Weddings & Events

Harp Teaching & Lessons


Contact

CD's & mp3's

Press, Reviews, & Comments

Music Therapy

Links 1,
2,
3,
4

Site Map


Harp Column Interview with Michelle Sell


Event & Wedding Venue Photos


Wedding Music Samples & Repertoire


~ 2019-09-08 ~
~ ©2018, Michelle Sell, Moon Circle Records ~