Michelle has been a concerto soloist with numerous orchestras, as well as a principal harpist. These have included:
Fairbanks Symphony - Marin Opera - Humboldt Symphony - Marin Ballet
San Francisco Chorus - Gay Men's Chorus - Marin Symphony - Reno Philharmonic
Las Vegas Symphony - Napa Symphony - Las Vegas Chamber Orchestra - California Symphony
San Francisco "Pops" Orchestra - and the American Conservatory Theater Orchestra

Michelle has performed in San Francisco for Broadway shows, including:
Evita - Peter Pan - 42nd Street - Pippin
Tap Dance Kid - The Wiz - A Chorus Line - Camelot
La Cage Aux Folles - Me and My Girl - Sugar Babies - King and I
Damn Yankees - State Fair - Sound of Music - Carousel - The Wizard of Oz
The Producers - South Pacific - Wicked

After attending San Francisco Conservatory of Music, Michelle began working with big bands, vocalists, instrumentalists, and other recording artists, including:
Josh Groban - Frank Sinatra, Sr. - k.d. Lang - Tony Bennett - Betty Carter and the Kronos Quartet
Count Basie - Sarah Vaughn - Henry Mancini - Nelson Riddle
Sammy Davis, Jr. - Robert Goulet - Perry Como - Bernadette Peters - Bob Newhart
Liza Minelli - Frank Sinatra, Jr. - Steve Lawrence and Edyie Gorme
Juliet Prowse - Rudolf Nureyev - Ray Stevens - Anthony Newley - Melissa Manchester
Tom Jones - Gladys Knight and the Pips - John Denver
Mary Chapin Carpenter - Crystal Gayle - Loretta Lynn - Michael McDonald
Mimi Farina - Johnny Mathis - Eartha Kitt - Burt Bacharach - Aaron Neville - Linda Ronstadt
Stevie Nicks - Sheryl Crow - Norton Buffalo - Ferron - The Temptations
Narada Michael Walden - Joni Mitchell
Don Henley - Trisha Yearwood - Diana Krall
Dianne Reeves - Ann Margaret

Michelle toured as a duo with Linda Ronstadt. Television appearances with Linda Ronstadt include:
The Tonight Show - Good Morning America - Rosie O'Donnell Show
Live With Regis and Kathie Lee - Entertainment Tonight - CNN - E! Channel - Fox TV

Michelle served as co-musical director and arranger for "I Do - I Do."

Michelle is a staff composer for Omni Music. Her compositions have been featured on:
National Public Radio - American Public Radio - PBS -
Better Homes and Garden Show - A&E Network, "Biography," Jack Benny Feature
A&E Network, "Biography," Jonathan Winters Feature
Commercial Usage in United States, Israel, Japan, Australia, Spain, Argentina Canada, United Kingdom, France, Mexico

Michelle is a contract harpist for George Lucas' Skywalker Ranch Sound Studios. She has recorded the film scores for the movies "Mimic," "Jurassic Park #3," and "Predator," to name a few, as well as documentaries and HBO feature films.

In addition to all of the above, Michelle enjoys an extremely active career as a soloist and ensemble performer for private engagements. These vary from fundraisers to weddings to corporate events. She has performed for former President Jimmy Carter, U.S. Senator Dianne Feinstein, U.S. Representative Barbara Boxer, the Grand Duke and Duchess of Luxembourg, and the King and Queen of Thailand.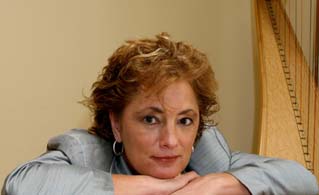 Home

About Michelle Sell

Appears On/Other Artists/Current Projects


Weddings & Events

Harp Teaching & Lessons


Contact

CD's & mp3's

Press, Reviews, & Comments

Music Therapy

Links 1,
2,
3,
4

Site Map


Harp Column Interview with Michelle Sell


Event & Wedding Venue Photos


Wedding Music Samples & Repertoire


~ 2019-09-08 ~
~ ©2018, Michelle Sell, Moon Circle Records ~


About San Francisco Bay Area Harpist Michelle Sell