Comments from Past Clients
"After talking to other harpists, we really wanted to go with you because you truly cared about making our day special. I had a good feeling after interviewing with you and my intuition was correct!"
Thuan and Anthony T, Wedding Clients, Hakone Gardens, Saratoga, Ca.
"You were amazing! All of my worries and fears just melted away. You have no idea what an incomparable feeling of exhilaration it was to walk out there to my favorite music in the world and to hear it played so unbelievably beautifully. Deepest and warmest thanks again for everything, Michelle...."
Ann M and Chris F, Wedding Clients, Alta Mira Hotel, Sausalito, Ca.
"Your music is and was very gorgeous! There are no words to express the way you played so beautifully."
Victor and Priscilla H, Wedding Clients, Commodore Marina, Alameda, Ca.
"You were phenomenal! The harp music you played was beautiful and so romantic. Again, thank you for all your work!"
Jenny and Chris, Wedding Clients, Dublin Ranch Golf Course, Dublin, Ca.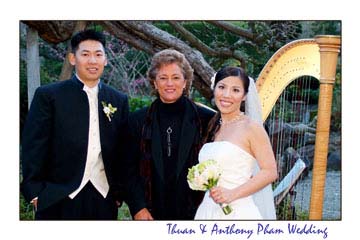 "It was great meeting you at the pre-wedding session and, thankfully, you thought of every detail! Thank you for your attention to detail and making the day wonderful for us! Please let us know if you ever need references!"
Melissa and Ian, Wedding Clients, Stern Grove, San Francisco, Ca.
"We just got back from our honeymoon, and I wanted to write a quick word of thanks for the lovely music you played at our wedding. Thanks again for helping to make our wedding beautiful!"
Corinne C, Wedding Client, Chateau Soverain, Geyserville, Ca.
"Michelle, I wanted to personally thank you again for the beautiful music you enchanted my wedding day with. It was absolutely breathtaking! On our wedding video, I could stop and rewind parts over and over and absolutely love hearing your talent. You're so amazing!"
Chrstine and Matt; Wedding Clients, St. Raymond's Catholic Church, Dublin, Ca.
"Now that the Ted Turner dinner is history, I'd like to thank you for your beautiful music!. Your presence and your talent added just the right amount of class to the private reception at the Ritz Carlton."
Linda W, Regional Director, Business Executives for National Security
"Thanks again for making such an amazing contribution to our wedding!"
Heidi B, Wedding Client
"On behalf of the USF Center for the Pacific Rim, I want to thank you for your participation in our gala. You are a wonderful harpist!"
Staff, Center for the Pacific Rim, USF
"Thank you again for a wonderful performance. It was a pleasure working with you!"
Kylie S, Store Manager, Macy's West
"We are still receiving kudos for the music. Thank you for sharing your talent and professionalism with us."
Thomas O, Healthcare Forum
"Thank you for playing your harp during our ceremony. We appreciate your professional attitude during the consultation, music selection, and wedding day. We're so glad we found you!"
Lily and Nelton W, Wedding Clients
"Thank you again for being part of our special day! Not only do you play the most beautiful music but you also truly seem like such a wonderful woman. It was so nice to meet you and please just know that if I ever hear of anyone needing music, I will absolutely send them your way."
Deirdre M, Wedding Client, Alta Mira Hotel, Sausalito, Ca.