"Secret Harbor"
Michelle Sell & Ensemble
Sugo Music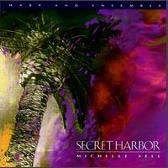 "The attorney that I work for has worn out the tape of 'Secret Harbor' that is in our office. Your music has a very soothing effect on our clients! If I can get another copy, I would very much like to surprise the attorney with your music." Laura Meyer, Spanaway, Washington
"I've written to tell you my mother feels that your CD, "Secret Harbor," is the best ever produced. Unfortunately, because it was always in the CD player, no one removed it when the player was recently sold at a garage sale! How can we get another?" Crystal Sims, Belleville, Michigan

The songs on Secret Harbor are filled with both stimulating musicianship and melodic mystery as Michelle's writing style permeates your senses like a cool breeze. Her delicate arrangements have a way of weaving in and out of your consciousness, deceptive in their subtlety and always beautiful. These uplifting melodies are portrayed on harp and feature authentic percussion, fretless bass, chapman stick, saxophone, cello, lush keyboards, and more.
Can't Stop The Wind - No Problem - Arroyo
I Wonder Where You Went - Morning Heart - Bittersweet - Within Every Moment
Road To Home - Eclipse - Glass Houses - Anitra's Waltz - Rivertown
~ Click on Highlighted Link for mp3 Sample ~

Produced by Michelle Sell and Stevan Pasero
Michelle Sell: harp, piano, sampler
David Darling: cello
Don Schiff: chapman stick
Ed Man: percussion
Janine del Arte: alto saxophone, soprano saxophone
Radhika Miller: soprano recorder
Tom Duckworth: drums

Listen/Purchase/Reviews
allmusic.com
amazon.com


Home

About Michelle Sell

Appears On/Other Artists/Current Projects


Weddings & Events

Harp Teaching & Lessons


Contact

CD's & mp3's

Press, Reviews, & Comments

Music Therapy

Links 1,
2,
3,
4

Site Map


Harp Column Interview with Michelle Sell


Event & Wedding Venue Photos


Wedding Music Samples & Repertoire


~ 2019-09-08 ~
~ ©2018, Michelle Sell, Moon Circle Records ~